Income that does not depend on your daily routine is called passive. If you're a graphic designer, diversifying your income streams can be beneficial. You can earn money from various activities to reduce the chance of losing, and simply to reach a new material level. There are many options to achieve this, including the creation of books, blogs, courses, personal consultations, or Patreon, as well as the sale of ready-made graphic products on marketplaces. Let's take that option and take a closer look at a few of them, namely Creative Market, Etsy, MasterBundles, and Envato.
How to start selling your designs to the marketplace?
If you have already decided that you want to sell your graphic elements on marketplaces, then you can start active actions. You will have to work in two directions. Well, first of all, of course, take care of the work you plan to sell there. Make sure that they are done qualitatively and professionally. Also, do not forget that you need to constantly add more and more new products, so you will increase the chance of sales and be able to earn more. Secondly, it is worth taking care in choosing a platform. I will help you with this as a graphic designer who once went through this path myself.
After you have selected the marketplaces or one marketplace where you will sell your graphic design, proceed to registration and display of products. On different sites, this process takes place in different ways. Some require you to pay for a personal account and others don't, some have a moderation process for your products and others don't. For example, to place graphic elements on the marketplace, you as a graphic designer must fill out a rather short form, where you specify all the necessary data in text mode and attach the necessary photos.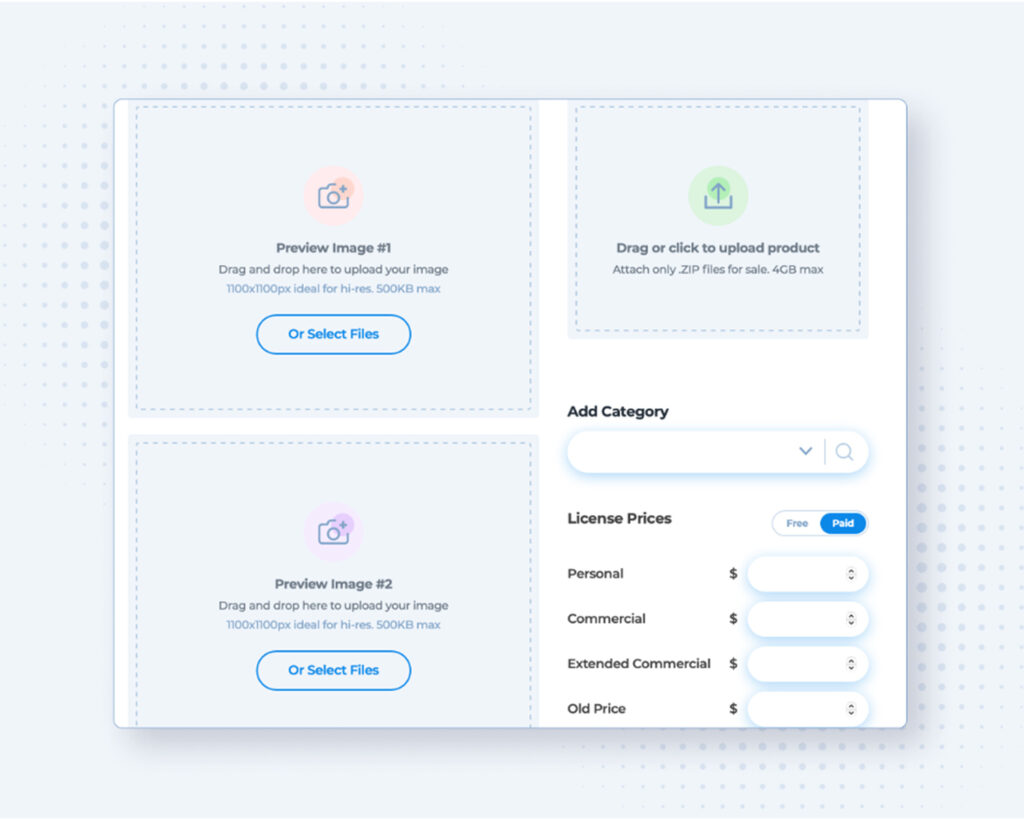 Top 4 the most popular marketplaces for you 
Envato
Envato is a global community for creative talent, tools, and assets. People from all around the world use the platform to buy and sell assets, learn design skills, or even hire freelancers. Envato has a great feature that allows creatives to get their projects done faster with a subscription service that includes unlimited access to its marketplace. The platform mostly focuses on templates for e-commerce stores, blogging, and various kinds of presentations.
What should you pay attention to?
I liked that under each product, the client can read the rating and comments of previous users who have already purchased this product. This allows you to honestly see whether your product is practical to use. Therefore, if you decide to present your works, make sure that they are of the highest quality. I also want to say a few words about the site itself, because it was not the most convenient for me to use and I had to figure out what and where it was for a long time.
MasterBundles
MasterBundles was launched in 2016 as a small international website. At first, only a few designers began to get acquainted with the marketplace and put their works on sale. Over the years, the number of people who put their works up for sale grew, and accordingly, the number of clients reached many thousands. Graphics, fonts, postcards, clipart, textures and patterns, postcards, prints, website templates, stock photos and videos, WordPress themes, Instagram, resumes, and presentation templates – all this can be sold there.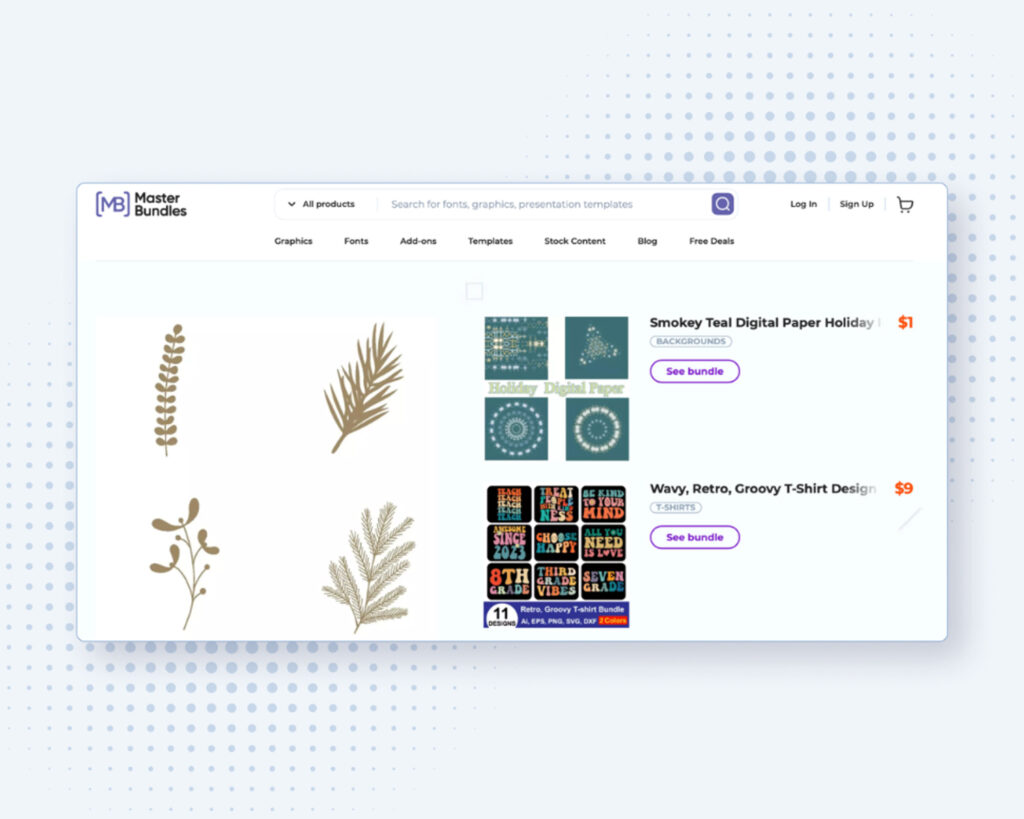 The main features of the marketplace
You have the option to set a price, and it's up to you. Although you will get a market estimate, you have the choice of which one to use since you are the creator of the product.

Unique

vendor rating

. To motivate graphic designers in the marketplace, there is a list of the 100 most successful. This is a rather complex algorithm that was developed by professionals, so you can trust it.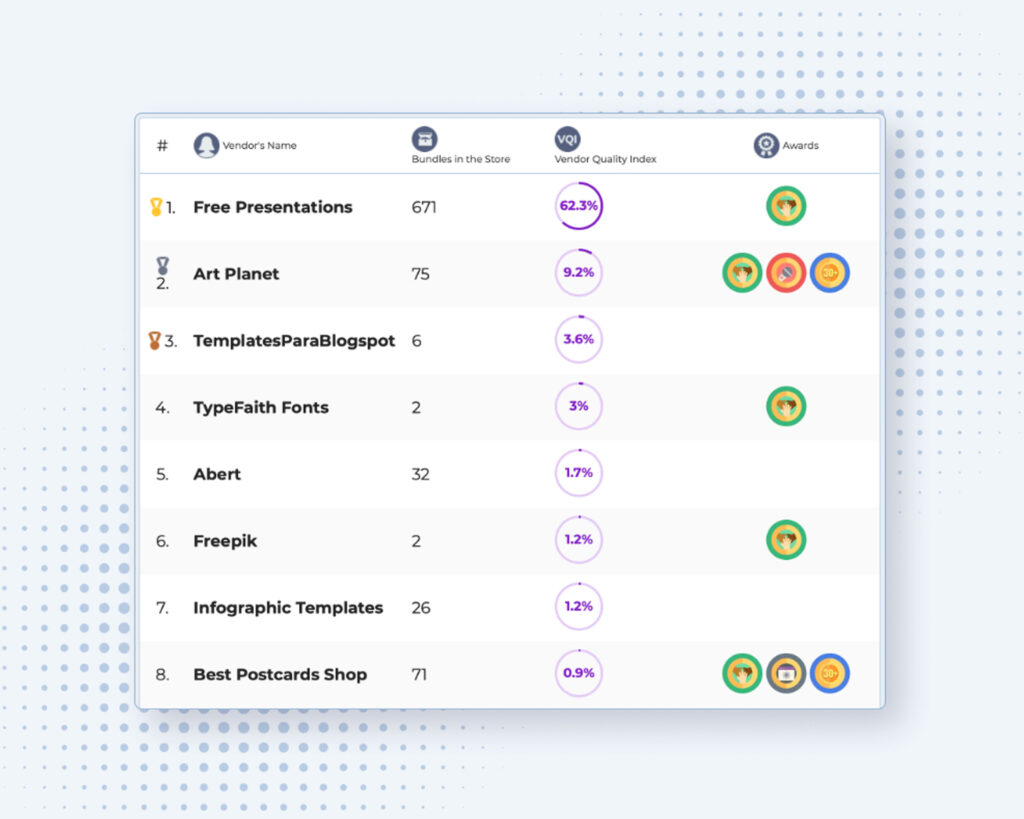 Advertising your work is a great way to reach more potential buyers and reach a wider audience. It is especially nice when it is not you who is doing it, but the marketplace itself. This can be done by mail or in collections.

The support center is actively functioning. If you have any questions or, for example, you cannot figure something out, they will always help you, and most importantly, quickly.

Affiliate Marketing. This type of promotion involves linking to a specific website or company and then receiving a portion of the revenue it generates. 

Become MasterBundles affiliate

and earn 15% of each sale. As a graphic designer who already sells his work, you can give links to them as well.
What should you pay attention to?
The platform continues to grow, which is very positive for designers, as it increases their chances of attracting more customers. To stay competitive, you need to constantly improve your techniques. Also, I already mentioned that you can send your work very quickly, but it may take several hours for the platform to confirm it.
Creative Market
Creative Market is a platform that allows web designers to sell their digital goods, such as stock photos, WordPress themes, and fonts. It was established in 2012 by Aaron Epstein, Darius Monsef IV, and Chris Williams. The marketplace has over 240,000 products and a few million clients. The marketplace has a good division for products and a convenient design. It helps clients quickly find the information they need. The site also states that there is a support group that will help you with your problems, if any, or answers your questions.
What should you pay attention to?
There are no free products on the platform. This is a big disadvantage for graphic designers. Getting to know the platform through free products is a great way for people to get a taste of it. They can then decide to purchase a paid product if they are satisfied with the quality. I also drew attention to the fact that the products that the graphic designer puts up for sale do not undergo any verification. On the one hand, you won't have to wait, and unreliable files can get into the marketplace without verification.
Etsy
The first marketplace that we will talk about is a fairly large electronic company Etsy, which was founded back in 2005. The global marketplace for creative goods, Etsy is known for its unique and extraordinary items. The site features a wide range of exceptional products, such as vintage treasures and handmade pieces. The line of products on the site is really impressive and among them, there are also graphic elements, because it is also a kind of handmade work.
What should you pay attention to?
The main goal of the marketplace is to unite millions of people and connect the buyer with the right seller. To become a seller, you need to deposit an amount of 0.20 cents and start selling through your account. You will no longer have to pay any additional monthly payments, and you will be charged the commission for external advertising, when you make a sale, for the transaction and payment processing.
Since the platform has existed for a long time and during this time the client base has increased to several million, you can be sure of its reliability, and take into account the fact that graphic designs are not the main product on the site and are not even among the most popular.
Conclusion
Extra income is a great bonus that people can enjoy because everyone has their own goals. There are many options for graphic designers to make money without requiring special skills. Some are more profitable than others, such as selling at markets. As a graphic designer, it is enough for you to make one effort to create a graphic element, and then tens or even hundreds of customers buy it. Having enough money in your account will allow you to try new things and help you decide how to develop further.
Victoria Cristoff
Victoria has been working as a content creator at MasterBundles for several years. She is really passionate about writing articles, especially on topics relating to Web design and graphic design. She holds a degree in philology. Victoria also engages her creativity in writing poems and creating illustrations